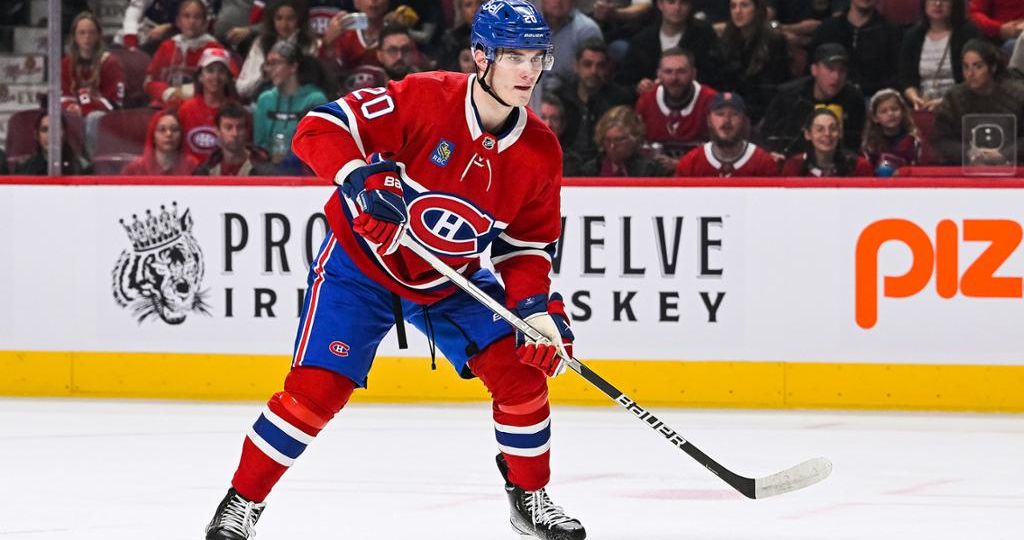 It is difficult to find someone in Europe more called to ice-hockey in Montreal than the Swiss columnist Joël Charles Wüthrich. Since 1988, this publisher and specialist in sports PR, communication and marketing has regularly reported on Canadian sport and culture. The media lecturer is involved in hockey through his more than 30 years as an editor in chief and the international player's management agency Sportagon, where he is the CEO in Switzerland. How was Slovak forward Juraj Slafkovsky rookie season in the Habs jersey? "It wasn't stunning, but its development is promising," thinks the 56-year-old expert living in Basel.
The Montreal Canadiens was founded in 1909, it is the longest continuously operating professional hockey team on the globe and at the same time the only existing NHL club that operated before the founding of this famous league. The Habs reached the finals of the National Hockey League in the summer of 2021, but did not even make the playoffs in the 2021/22 season. What did you think when, in the summer of 2022, this giant with the largest stadium in the league (21,302 seats) drafted Slovak forward Juraj Slafkovský from the number one position?
"I was closely following the whole situation, because I know the people from the hockey environment there. The entire summer the media reported that there were discussions whether the Habs would take Juraj Slafkovski or the Canadian center Shane Wright. In the discussions, many people preferred Slafkovsky, so it was not surprising that they chose him at the end. The reasons: The Canadiens team is going through a generational rebuilding. Captain Shea Weber left last summer after six seasons, and long time injured star goaltender Carey Price is not available. The management knew they would have a very young squad in 2022/23, especially in defense led by Kaiden Guhle. That's why they wanted to get an ice-hockey player in the draft who has experience in men's hockey and who can compete with other players in the NHL. It should be remembered that Montreal didn't need a center forward too much. The first center is Nick Suzuki. The second attack in this position was also filled in with Kirby Dach, who switches between center and winger positions. In the third funit, they counted on the American central attacker with Czech roots, Christian Dvorak. And the fourth center can be played by other players, especially by Jake Evans."

A week ago, the sad news came out that Juraj Slafkovský's season came to an end (the last game is scheduled for April 13) early due to an injury. Because Montreal has an eleven-point margin to eighth-ranked Pittsburgh and has six more teams ahead. The tall Slovak scored 4 goals and 6 assists in 39 matches. In the column of participation on goals he has minus thirteen points and was on the ice a little over twelve minutes on average. How do you rate his rookie year?
"Sometimes he was used on power plays, but he never started in one stable line and that hurt him. When you play in a team that has no consistent performance, it could have a negative effect on young players. But Slafkovsky had mentors. For a while he started with Center Sean Monahan. They did well, the Canadian center forward was a top mentor, but Monahan soon got injured. During the season Juraj was tested in different units with different teammates. It's very sad for him that the season ended prematurely like this, because he was in progress. Yes, he had problems with open ice spaces and the style of play in the NHL, especially with some open ice checks, and with the speed. But lately he has been playing more aggressively and shooting more. I will mention one anecdote. The coach kept pushing him to shoot more. Then his mom came to him and told him the same advice. And he really started shooting more at the end (laughs). The stats could be a bit deceiving at first sight, but they are not reflecting the entire reality. He had a lot of bad luck with scoring opportunities. With a little more luck he could have twice as many points. But in the end his work ethic is great and he is involved in many promising offensive situations."

How do fans, experts and the club itself perceive the first season of the powerful winger in a city of almost two million people?

"The fans of the "Habs" always have high expectations, which they then confront with reality. The fans in Montreal are different from those in some other regions or NHL markets. They understand hockey and can judge what happens on the ice and comprehend why Juraj didn't score more NHL points. They clearly saw that he has to improve tactically, but they also watched his potential and gradual improvement. One of Slavkovsky's greatest assets and added value is his character and work ethic. And he is outspoken with the media and funny. He gives entertaining interviews who are perceived as very sympathetically. Juraj talks out and the people like that in a city where the media plays an extremely important role. I agree with the experts concerning the judgement of Slafkowski's year. His rookie season was not amazing, but they weren't displeased, and his development is promising. He has learned what it means playing pro hockey in Northern America."
The coach of the Canadiens is Martin St. Louis. The native of the province of Quebec has a significant playing past, but before coming to Montreal he only worked as a coach at the student level and later he was a consultant for the Columbus Blue Jackets for three months. On February 9, 2022, this French Canadian replaced Dominique Ducharme. Wasn't it too much of a risk to throw him into the choppy NHL waters of a person with no previous coaching experience?

"In 2021, the Montreal Canadiens with coach Dominique Ducharme played in the NHL finals and it was a tremendous experience for everyone involved. Ducharme is an excellent coach who earned respect. But at some point, as the slang says, he "lost the locker room". The arrival of Martin St. Louis was just a temporary solution at first. The Habs management needed to put someone behind the bench who was credible in the eyes of the players and in three months they experienced his work. Martin St. Louis is not a typical head coach. He took over the responsibility, but at the same time he has been surrounded by excellent assistants (Alexandre Burrows, Trevor Letowski, Stéphane Robidas), who help him a lot and together they form a cohesive coaching staff. That's why he manages his coaching inexperience quite well so far. He also can adapt very well to different situations during the game, which means that he is a good "bench coach"."
Montreal is currently the seventh worst team in the National Hockey League. Will this be followed by consequences for Martin St. Louis' and for general manager Kent Hughes, who came to the organization just a month earlier before the current coach?

"No way. This season is clearly perceived as a transitional and "soft rebuilding" season. It was even somehow calculated that they would be at the bottom of the league standings. But the way the team presents itself on the ice at times is amazing. Some inexperienced, young players, especially in defense, show up with good performances. When you see how the defenders Kaiden Guhle, Arber Xhekaj or Justin Barron, Jordan Harris and Jonathan Kovacevic play there are reasons to look forward to the future. Therefore, there is zero probability that Kent Hughes or Martin St. Louis will be released. Therefore, Martin St. Louis received a contract until 2025, because the management clearly told him that there are expected two, three or more years to rebuild a winning team."

Juraj Slafkovský's long-term injury could mean that the expectations on him for next season will increase. The native of Košice has a 950,000 USD contract and is a thoroughbred left wing. But there are perhaps a dozen other players in the Canadiens roster who are capable of playing this position, although their original player focus may be different.

"He will probably not be a left winger in the first unit in the short term. Perhaps in two years. Actually I see his place in the second or third line, where he will have a starting position. The club management has long term plans with Slafkovský."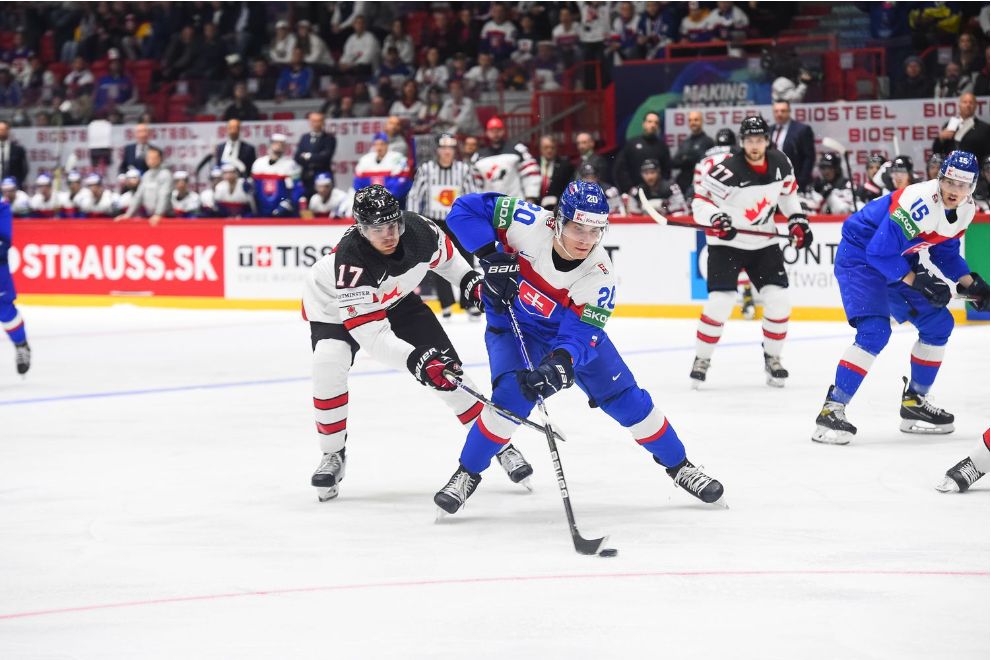 In the 2022/23 season, the salary cap in the NHL was at 82.5 million dollars, and the Canadiens almost filled this amount. Starting next season, the salary cap will probably only increase by one million dollars, but the Canadiens already have $71.5 million worth of players under contract for 2023/24 (including a $10.5 million contract for injured goaltender Carey Price). The legend of the organization has a contract until 2026, but he did not play a single game this season and only five in the last one. How will the management solve the puzzle with the 35-year-old goalkeeper?

"Legally, Price's contract is still valid, but he is on the list of long-term injured players, which means that he will no longer be included in the salary cap. The second thing is that the Habs probably no longer count on Carey Price. He will probably resign and will not return any more. The amount of the salary cap is much more important in the case of the contract of Cole Caufield. This will be the most important contract negotiation of the next period. And then they perhaps try to negotiate a new contract with the veteran Sean Monahan if he is not leaving during the March trading deadline coming soon. Some other veterans with expiring contracts will probably not be signed again."
Two of the current three younger top stars of the club have contracts until 2030, respectively. 2026. The first is the 23-year-old Canadian center Nick Suzuki and the second is the 21-year-old Canadian all-rounder Kirby Dach. Third in the lot, Cole Caufield receives $880,000. How much can Caufield negotiate and for how long?
"In my opinion, he will get a contract similar to Nick Suzuki's. That means in the margin of 60 million dollars for seven to eight years. Suzuki and Caulfield perform well together and harmonize excellently."

Among the veteran forwards with expiring contracts who can be seen as competitors of Juraj Slafkovsky a few earn more than three million dollars a year. Canadian center Sean Monahan takes almost 6.5 million. Jonathan Drouin with a salary of 5.5 million, Yevgeny Dadonov's contract is expiring as well. Same situation for Paul Byron who hasn't played a single game this season. Will center forward Monahan be the only one left of this quartet?

"In my opinion, in the end maybe neither. They would like to keep Monahan, but it is possible that he will receive an offer from another club before the transfer deadline (March 3, 2023). As a playmaker he will be very useful for some teams. In his case, it will be important how develops the contract negotiations with Cole Caufield. It will be difficult to extend the contract with Jonathan Drouin and certainly not at the level he has today. Although Jonathan is very popular, but very often injured and not heading the expectations. Dadonov's Montreal journey will definitely end and Mike Hoffman (contract until 2024 for 4.5 million dollars for one season) could be eligible to leave for another team before or during the transfer deadline."

In the group of players whose performances are rather average, there are four skaters who have long-term and high contracts. Winger Brendan Gallagher until 2027 for 6.5 million a year. Winger Josh Anderson (Slafkovski's competitor) until 2027 for 5.5 million. And center forward Christian Dvorak is under contract through 2025 for nearly $4.5 million a year. Finnish right wing Joel Armia has a contract until 2025 for 3.4 million per year. Will the management try to send any of this quartet away?

"Probably, yes. With buyouts or trades. Gallagher is very important as a role model for the club and the fans. An important person who received a lucrative contract, not only for his performances, but also for his personal status. He is an exemplary athlete in all aspects. But since years he is often injured, he is not very productive considering the amount of his contract. Joel Armia got a good contract for an excellent playoff performance in 2021. They possibly will try to trade him, but it won't be simple. Something similar applies to Christian Dvorak. All veterans with high contracts are candidates for trade. Defender Joel Edmundson, who is interesting for Stanley Cup contenders, is in the focus of some GM's. But two veteran backs will definitely remain: Mike Matheson and David Savard."

At Laval Rocket, Montreal's backup team in the American Hockey League, there are six forwards in the team who have almost a point per game in this season and five of them are free agents this summer. All of them are over 23 years old. The first is 26-year-old Anthony Richard. The second 23-year-old Finnish winger Jesse Ylönen. Next is 24-year-old Rafaël Harvey-Pinard. He is followed by 25-year-old Peter Abbandonato. The fifth is 31-year-old Alex Belzile. And only one Rem Pitlick (26 years old) has a contract until 2024. Who among them has the greatest potential to establish himself in the francophone club?

"Some of them showed promising performances in the NHL when they were recalled. Jesse Ylönen is very talented and technically proficient, with a good shot and pass. However, he has to compete with more effort. It's his third year at the club and once he has to step up. Alex Belzile is a hard worker with great assets as a fourth line forward and Rafaël Harvey-Pinard is very fast with a high work ethic. And Rem Pitlick has to be more consistent but is improving lately."

In the first round of the 2022 NHL draft, the Habs management selected Slovak right winger Filip Mešár, who has had a good season in the junior OHL, but not an excellent one. In the second round of the same year, the Canadiens drafted Canadian center Owen Beck, who also plays in the OHL with slightly better statistics than Mešár. In 2021, the club drafted two centers right after each other in the second round. Canadian left-hander Riley Kidney and Finnish right-hander Oliver Kapanen. Who among these four youngsters is the best hope for the club?

"Probably Owen Beck within two years. I am not fully qualified to comment on Mešár at the moment, but they expect a lot from him and he has been watched very closely during the World Juniors. Expectations are high concerning the versatile forward Joshua Roy (fifth round of the 2021 draft). He was great winning gold with the home team at the recent WJC in Canada playing together in the same unit with Connor Bedard."

With the National Hockey League more than halfway through the regular season and the Habs seventh-worst in the competition, club management will likely be picking high again in the upcoming summer draft in Nashville 2023. What kind of post do you think competent people will be interested in? For a goalkeeper, defender or forward?
"They have a lot of young defenders who are already playing, so they don't necessarily need to fill that position. We'll see how the pre-draft lottery plays out. They probably won't have a chance to go first and have a shot to draft Connor Bedard. I think they'll focus perhaps on Canadian center Adam Fantilli, or perhaps for the clever Swedish center Leo Carlsson."

In one of your many interesting articles, you once wrote that the Canadiens are the big winners of the entire NHL when it comes to contracts with local TV stations. RDS and TVA. The Habs managed to implement probably the most effective local marketing strategy of any NHL club in their main market (the province of Quebec and the Montreal area). Added value is accompanied by other lucrative contracts in all areas of publishing and marketing. The advertising industry is also snarling, investing millions in campaigns where the Habs serve as a testimonial, driving force and platform for sponsors across all media channels. In practice, this means enormous pressure on hockey players?

"It's an advantage when you come to the Montreal Canadiens from Europe. You can even enjoy the pressure. But if you're Canadian and God forbid a french speaking native of the Province de Québec, the pressure is much, much bigger. Because Quebecers are very proud of their region and expect a lot from their players. As I watch Juraj Slafkovski, the pressure doesn't cause him any major problems. He is relatively relaxed and recognizes that people value his way of handling the situation and that inspires confidence. Even though he doesn't have great stats, the audience appreciates every good shift and actions. Once, he blocked three shots in one shift and helped clear the puck out of the defensive zone. Then he came to the bench, all his teammates applauded him and the fans in the Bell Centre chanted. That clearly shows him: I'm in a city and playing for an audience who are not just appreciating goals, but also work ethic and character. As P.K. Subban said in his speech when he was honoured by the Habs before the game mid January 2023: "Give all you have on the ice and these fans will love you."